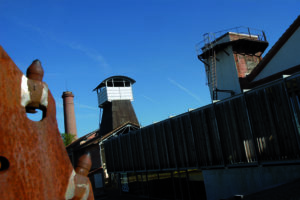 Last testimony on coal mining in the Tarn, the departmental mine museum sheds both technical and social lights on seven centuries of coal-mining history. The headframe and the descent of the shaft leads to the discovery of 350 meters of rebuilt galleries where machines and tools are presented in situation, in order to share the miner's work and living conditions.
Permanent showrooms evoke the social history that forged the identity of these places and men who worked on the lands of Jaurès. Finally, temporary exhibitions enhance the industrial and environmental mining patrimony.
Fees
Adults : 7 €
Children (from 5 to 18 y.o.) : 4€
Schools and students : 4 €
Free for those under 5 y.o.
Opening
Opening period : open from 16 february to 23 december 2019
Opening hours and days :
From 2 may to 30 june and from 1st september to 31 october : every day from 10 h to 12 h and from 14 h to 18 h,

From 1

st

july to 31 august : every day from 10 h to 12 h30 and 13 h 30 to 19 h,

From 16 february to 30 april and from 2 november to 23 december : from tuesday to sunday from 10 h to 12 h and from 14 h to 17 h.
Closed on 24 december till 15 january included, as well as on 1st may and on 1st november.
Guided tours
Departure of the guided visits : Inquire with the museum
Duration of the visit : 1 h 30
Contacts
Musée-mine départemental
81130 Cagnac les mines
Tel. : +33(0)5 63 53 91 70
Email : musee.mine@tarn.fr
Website : http://musee-mine.tarn.fr