The name of « Carmaux » goes hand in hand with the mining exploitation and with the glass industry which grew there from the XVIII century to the carmausin basin's "golden age", which can be situated in the early 19th century till the 1960's. The story of this epic tale owes a great deal to the abnegation and tenacity of six miners from Cagnac-Les-Mines who, in the turmoil of recession, after all wells closed down, worked day after day on saving what could be and on reconstituting a mine gallery in its authenticity, with its retaining structure, its equipment and its machinery…thus was born Cagnac's Mine Museum, managed by the General Council of the Tarn.
A stone's throw from the Museum is the cyclopean site of Cap'Découverte and its « Titans' Park » : it reminds us the abortive attempt of an open pit ("La Découverte"="The Discovery") in 1970's, "The swan song" of the coal industry in the carmausin basin.
The ex-mining basin has, this way, preserved and brought to light some places of remembrance, some amazing sites that bring to the visitors' mind the whole framework of this industrial epic tale, along with the prominent figures associated to it : at Cagnac-les-mines, the departmental Mine Museum and the extraordinary site of Cap'Decouverte; at Carmaux, the Art Glass Center Museum; at Pampelonne, the Jaurès' area….
To discover in the surroundings
Located in Cagnac-les-Mines, this museum traces the history of mining in Ségala and Carmausin, since the 18th century.


For more information
Located in Carmaux, this museum shows you the works of contemporary glass artists with annual exhibitions.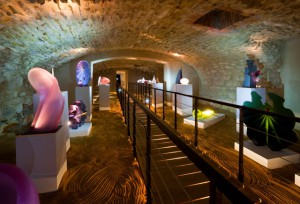 For more information