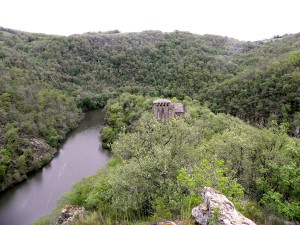 The discovering of Las Planques' church has to be earned because, built on a rocky promontory, it is only reachable by foot. This beautiful roman edifice overlooks the river and the valley of the Viaur.
Constructed between the XIth century and the XIIIth, Our Lady of Las Planques owes its name from a footbridge which allowed the crossing over the Viaur to go to Tanus and Pampelonne. In Occitan, "plancas" signifies planks.
The most interesting about this southern roman art first witness is, firstly, its fortress look, with its dungeon steeple, then its choir, ornamented with paintings from the end of XVIIth century, today very hard to decipher.
Know that the construction was once the centre of a village that counted 20 houses around the XIVth century. Hidden at the bottom of the valley and difficult to reach, the church was used by the local population as shelter when road users, looter-soldiers, organized in big companies in the Middle Ages, were approaching. In 1381, Captain Mauléon from the English Party seized this stronghold and stayed for three years. At the end of the One Hundred years War, Las Planques' inhabitants left gradually the place for progressively took up residences on the neighbouring plateaus.
Access  :
From Tanus, take the direction of Pampelonne and then follow the road signs. From the car park, take the path that goes down to the Planques (20 min. by foot)
To visit the interior of the church, you can ask for the key at the Café des Sports, in Tanus (opened 7d/7).