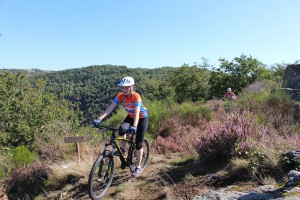 During the excursion, the boldest will enjoy the beauty of the little patrimony and the diversity of places you will go through : steep path right to the Cirou bridge, way on the Viaur riverbanks, paths and pastoral roads on the plateau.
Departure point : Foirail's square – Mirandol.
Travelled distance : 17km.
Drop : 375m.
Tour difficulty : difficult – Tour colour : red.
Track marking : follow the signs "2 red".