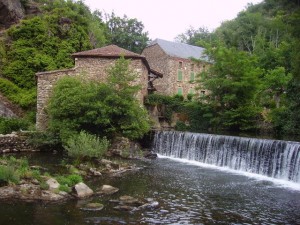 Miller you are sleeping, your mill, your mill is going too fast, Miller you are sleeping, your mill, your mill is going too powerfully… …
All along the Cérou, the Vère and the Viaur, you will notice many of them. They make their mark on history and time. Thanks to the use of water, they could feed men. At the time, every man was going to the mill to make his own flour, oil, or to ret hemp… sometimes mills were sawmill, fulling mill, spinning mill…
The mill was, too, a place for exchanges, for reunions. We were talking about everything, freely, hence the expression "coming in, like in a mill"!
But by the end of the XX th century, most of mills slowed down their activity because the competition with flour mill was tough.
Situated on the Viaur, upstream of the Cirou's bridge, walk to Pignac's mill, old flourmill near a sawmill. It has been restored and rehabilitated from 2006 until 2009 by the community of communes. Also, it will be the opportunity to offer you a remarkable stroll (Pont du Cirou's trail) with beautiful views on the village and the Viaur Valley.
In Languedoc, « calquerias » point places where we were preparing skins for tannery by wet-pressing out. We find this designation again at Mirandol with the La Calquière's mill. This mill is located on the left bank of the Viaur, just upriver the bridge of La Calquière and nearby Frexaïres' fountain. It was a part of the Vieux Mirandol, today vanished. Only few vestiges are still visible (St Michel's chapel).