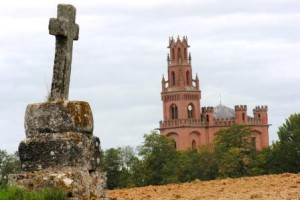 The « little cathedral » built on the municipalities of Albi, Lescure d'Albigeois and Cagnac-les-Mines, is called Notre Dame de La Drèche. This name emanates from albigenses' dialect : « Nostro Damo de la Dresto », Our Lady of the Right Coast, in other words, the straight and steep path to access to it. Old deeds from the XVIIIth century mentioned it as "Beata Maria de Dextera".
In this place, which is only warren and grazing, shepherds came across the statue of the Virgin Mary, in XIIIth century, currently viewable above the high altar. The date of the first construction is unknown. A deed from 1185 gives it as a parish church after an agreement between lords of Castelnau de Levis, of Lescure and the bishop of Albi. Each of them had their own entrance to the church. The peculiarity of this church is to be at the junction of these three municipalities.
The octagonal church has been rebuilt in pink bricks by the architect Bodin-Legendre in 1859, based on the model of Albi's Sainte-Cécile cathedral. In gothic style, she also has the shape of a fortress.
Notre-Dame de la Drèche's church is one of the principal sites with bells in the Tarn (1 carillon and 31 bells).
Opening hours and days :
From Mondays to Saturdays, from 9h to 12h and from 14h to 17h30
Contact :
Tel : (33) 5 63 53 75 00