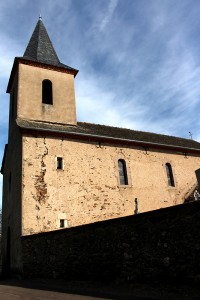 A story entirely tied to the Planques' one is to be recounted here…
In the early XIXth century, inhabitants of Las Planques had progressively left the village to settle on plateaus. Fournials, hamlet of Tanus' community, became the main place of worship.
In 1860, the roman chapel of Las Planques' furnitures were shifted to Saint Salvi's church of Fournials, shortly after the construction. And notably, the altarpiece dating from the XVIIth century.
An unexpected surprise turned out while "dusting" the canvas representing the Assumption of the Virgin Mary. The workshop Antoine Maury in Rodez proceeded with a first study and unobstructed few "windows". Beneath the two layers of paint and the one of varnish, the beautiful original paint can be distinguished. Find out about its history during visits organized for European heritage Days.