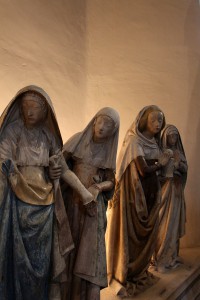 Push St Jacques chapel's door and hold your breath : you will find Monestiés' treasure here!
From 1774, this former hospital, on the way to Santiago de Compostela, houses a magnificent masterpiece, classified as historic monument, representing the three last scenes of the Passion of the Christ. This impressive set is composed of 20 polychrome limestone statues, commissioned by Louis d'Amboise in 1490.
Did you know that Louis Amboise, the statues' main sponsor, knew also how to party? Discover how he organized in 1492 festivities in honour of the dauphin through 20 graphic panels illustrating a fest in the Middle Ages. (Exhibition accomplished by the departmental archives of Tarn)
Fees
Open house : full rate : 3 € – reduce rate (disabled, job seekers, students, group of more than 10 persons) : 2,50 € – Free for those under 14 y.o.
Pass'Découverte : Visit of the chapel and Bajen-Véga Museum : 4,00€ (full rate) and 3,50€ (reduce rate)
Opening
Opening period : from 1st  April to 27 October
Opening hours and days :
From 1

st

April to 11

June : open every day from 10 h to 12 h and from 14 h to 17 h 30,

From 12

June to 17

September : open every day from 10 h to 12 h 30 and from 14 h to 18 h,

From 18 September to 27 October : open every day from 10 h to 12 h and from 14 h to 17 h 30,
Contacts
Chapelle Saint Jacques
81640 Monestiés
Email : monesties@orange.fr
Website : www.tourisme-monesties.fr