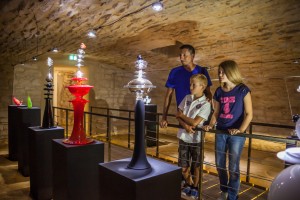 A unique site in Occitania, Carmaux's museum-glass art centre is settled in the first royal glassware's site. Every year, from mai to october, the museum-glass art centre presents two exhibitions : one dedicated to contemporary glass art, the other to glasswares from the Tarn region. At the same time, the workshop offers glass blowers' demonstrations. The Carmausin-Ségala community of municipalities thus points out to the visitor the importance of the glass industry, alongside the mining one.
In 2017, 2 temporary exhibitions will be offered :
Lucie and Paul Bernard's collection, contemporary glass 1980-1990.

A selection of works from Lucie end Paul Bernard's private collection offers the visitors to discover, or rediscover, one of the most creative period of the glass. Icons' works from 1980s-1990s are shown: Leperlier brothers, Yan Zoritchak, Claude and Isabelle Monod, Novaro, Alain Guillot, Van Lith, Mieke Grootand and among the most well-known European glasswares : Venini (Italy), Riihimäki (Finland), Kosta Boda (Sweden).

Glass and photography itinerary(ies) : Tonkin/Yunnan/Tanus.

A photographic exhibition which invite visitors to take the road, in the footsteps of the engineer Paul Bodin, from Tanus, Tarn, to the faraway lands of Tonkin and Yunnan, China. The ingenious designer has marked these landscapes, here and there by the construction of impressive metallic works, from the Viaur's viaduct, to the chinese railway line.
Fees
Adults : 6 €
Children : 3 €
Reduce rate (job seekers, students…) : 4 €
Opening
Opening period : from 1st april to 15 october
Opening hours and days :
from 1

st

april to 30 june : open every day except tuesdays from 10 h to 12 h and from 14 h to 18 h

from 1

st

july to 31 august : every day from 10 h to 12 h and from 14 h to 19 h

from 1

st

september to 15 october : open every day except tuesdays from 10 h to 12 h and from 14 h to 18 h

Closed 1

st

may
Glass blowers' demonstrations :
from 1

st

april to 30 june : open every day except tuesdays from 14 h to 18 h

from 1

st

july to 31 august : open every day except tuesdays from 15 h to 19 h
from 1st september to 15 october : every afternoon except tuesdays from 14h à 18h
Contacts
Musée/centre d'art du verre
Domaine de la Verrerie – BP 40 81400 Carmaux
Tel : +33(0)5 63 80 52 90 – Fax : +33(0)5 63 80 52 91
Email : museeverre@cc-carmausin.fr
Website : www.museeverre-tarn.com