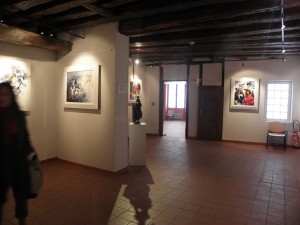 Located in a host house from the XVth century, the museum holds spanish refugees Martine Véga and Francisco Bajen's paintings. Discover these two artists' work through a thematic exhibition, renewed every year.
On this year's theme « games and hobbies », find out about two painters, two styles and two univers, at once naive and colourful.
Fees
Open house : full : 3 € – reduce rate (disability card holders, job-seekers, students, groups of more than 10 persons) : 2,50 € – Free for those under 14 y.o.
Pass'Découverte : Visit of the chapel and Bajen-Véga Museum : 4,00€ (full rate) and 3,50€ (reduce rate)
Opening
Opening period : from 1st  April to 27 October 
Opening hours and days :
From 1

st

April to 11

June : open every day from 10 h to 12 h and from 14 h to 17 h 30,

From 12

June to 17

September : open every day from 10 h to 12 h 30 and from 14 h to 18 h,

From 18 September to 27 October : open every day from 10 h to 12 h and from 14 h to 17 h 30,
Contacts
Musée Bajen-Véga
place de la mairie 81640 Monestiés
Email : monesties@orange.fr
Website : www.tourisme-monesties.fr