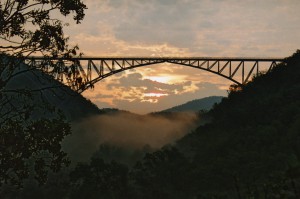 Placed on the valley's slopes, as light as a feather, the viaduct of the Viaur is a wonderful achievement by man. At 116m above ground level, it spans the Viaur with majesty. With its steel beam, its arches and its rivets, this metallic lace from the XIXth century, designed to support Toulouse-Rodez railway, is a work of the genius Paul Bodin.
Unique in its kind in France, this bridge played an important role in the economic development in the region. The train passing by the viaduct, enable to connect both slopes of the Ségala, Tarn and Aveyron, and to transport commodities from the agricultural production.
 Useful informations :
The viaduct of the Viaur is currently being renovated. The traffic of hikers or any kind of users nearby, and the access to the picnic area, have been prohibited by a decree.